sexta-feira, abril 12, 2019
FSC welcomes Visiting Professor Sergio Yoshimitsu Motoike, PhD
sexta-feira, abril 12, 2019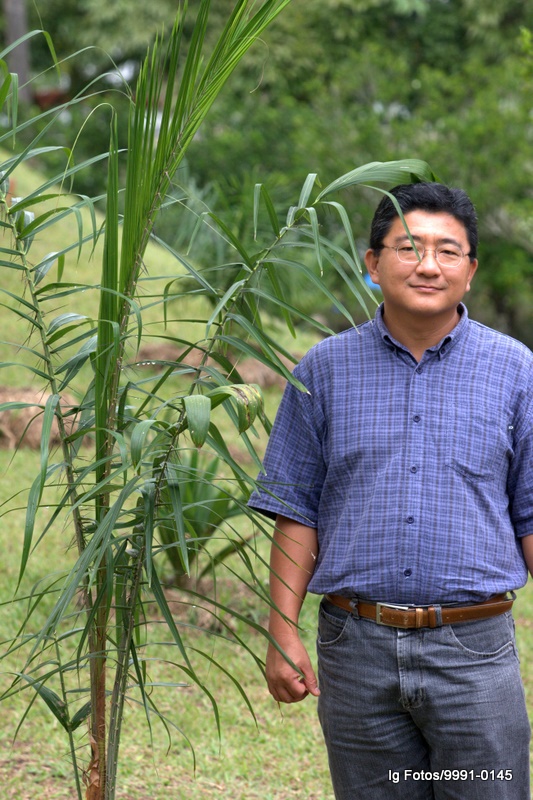 The FSC and the Hans-Rutherberg-Institut welcome Prof. Dr. Sergio Yoshimitsu Motoike at the University of Hohenheim. Prof. Motoike is a Full Professor of Plant Science at the Universidade Federal de Viçosa, Brazil, and an internationally well-known expert with extensive expertise in agronomy issues related to food security and a distinguished network in the international science community. At his home university Prof. Motoike investigates the domestication of the neotropical palm Acrocomia Aculeata and leads a research group aiming at the technological development for its sustainable exploitation. Another research project of Prof. Motoike focuses on the development of elite clones of the African palm Elaeis guineensis.
During his stay at the University of Hohenheim in summer semester 2019, Prof. Motoike will join the research group of Prof. Dr. Cadisch at the Institute of Agronomy in the Tropics and Subtropics, in particular within the project "AcroWat" funded by the Fonds Nacional de la Recherche Luxembourg in the field of plant cultivation in the tropics and subtropics. Further activities encompass planning and implementation of the session "Neglected crops and their importance for the bioeconomy" within the framework of the 9th German-Brazilian Symposium on Sustainable Development at the University of Hohenheim in September 2019, as well as elaboration of further cooperation projects, especially in the area of Acrocomia research.
In July 2018 an Acrocomia workshop had taken place, where strategies to intensify research activities on Acrocomia in Hohenheim were elaborated.
Page:
University of Hohenheim